Trending Natural Stone Jewelry Styles for 2023: Elevate Your Look with Nature's Finest
As the world of fashion evolves, so do the trends that captivate our senses and redefine our personal styles. In 2023, the allure of natural stone jewelry has taken center stage, combining the raw beauty of Earth's treasures with contemporary elegance. Whether you're a dedicated fashionista or simply looking to elevate your everyday look, this guide to the hottest natural stone jewelry styles for 2023 will inspire you to embrace the beauty of nature and make a bold fashion statement.
The Power of Statement Necklaces: Bold and Beautiful
This year, statement necklaces adorned with natural stones are stealing the limelight. Picture a chunky amethyst pendant suspended from a chic chain or a vibrant turquoise centerpiece that effortlessly transforms a simple outfit into a work of art. These attention-grabbing pieces are perfect for expressing your unique personality and adding a touch of drama to your ensemble. Pair a bold statement necklace with a solid-colored blouse or a little black dress for an instant style upgrade that's sure to turn heads.
Earthy Elegance: Dainty Drop Earrings
Delicate drop earrings featuring natural stones are a must-have accessory for 2023. Think about moonstone or rose quartz delicately hanging from your ears, capturing the light and enhancing your natural beauty. These understated yet elegant pieces can effortlessly transition from casual to formal, making them versatile companions for any occasion. Pair dainty drop earrings with your favorite jeans and a flowy top for a chic daytime look, or let them add a touch of sophistication to your evening attire.
Stacking Bracelets: Mix, Match, and Make a Statement
Stacking bracelets have become a creative canvas for showcasing your personal style. Layering natural stone bracelets in varying colors, textures, and sizes is a trend that continues to gain momentum in 2023. Experiment with different combinations of stones, such as agate, jasper, and labradorite, to create a unique wrist stack that reflects your mood and energy. Mix and match with metallic bangles or leather cuffs to add a touch of edginess to your ensemble.
Nature's Palette: Matching Stones to Outfits
One of the most exciting aspects of natural stone jewelry is its versatility. Embrace the art of color coordination by matching your stone jewelry to your outfits. Pair warm-toned stones like citrine or carnelian with earthy browns and greens for a harmonious autumn look. Opt for cool-toned stones such as aquamarine or amazonite to complement your summer blues and whites. Let your imagination run wild as you create captivating ensembles that celebrate the beauty of nature's palette.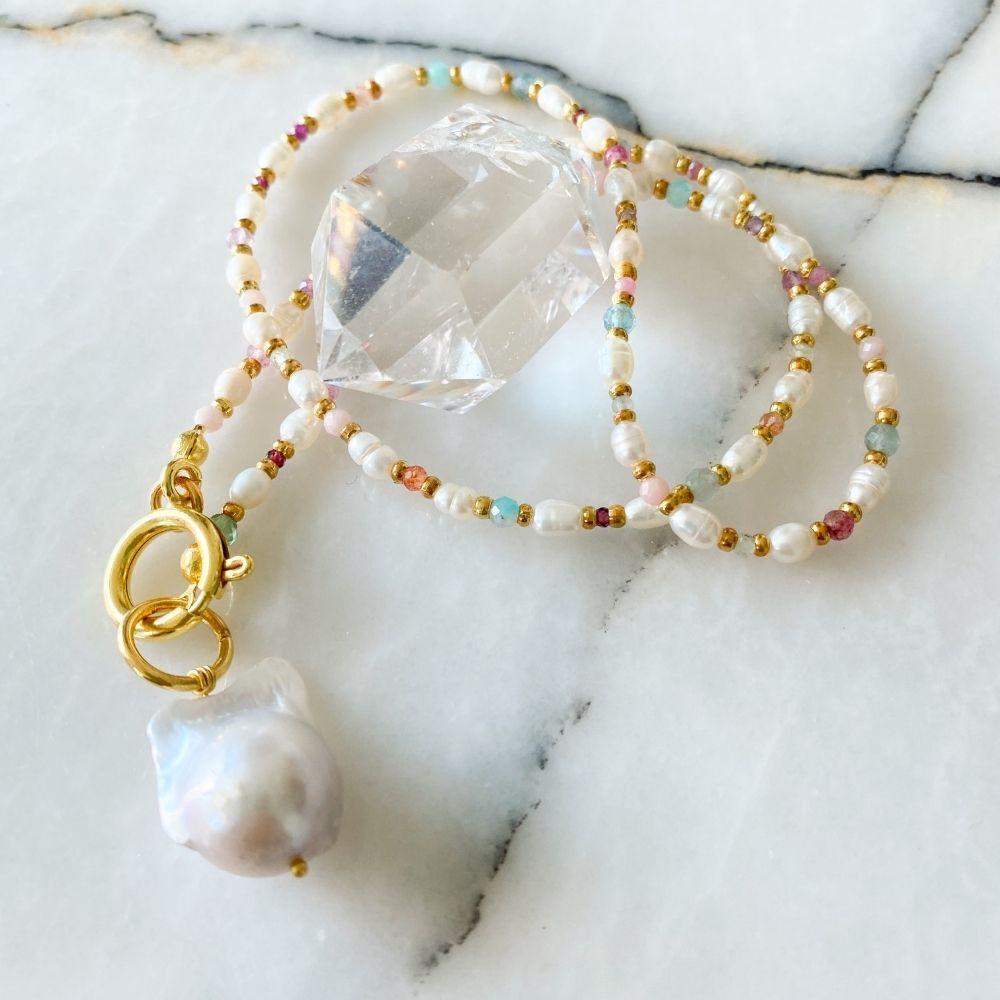 Lulu Natural Stone & Baroque Pearl Necklace | Double Trouble Collection
In 2023, natural stone jewelry is more than just an accessory; it's a reflection of your style, personality, and connection to the Earth. From bold statement necklaces to delicate drop earrings, stacking bracelets, and bohemian rings, the trends of the year offer a diverse range of options for every fashion enthusiast.
Explore the world of natural stone jewelry and let your creativity shine as you mix, match, and pair these exquisite pieces with your favorite outfits. By embracing these trending styles, you not only enhance your look but also celebrate the timeless beauty of nature in its most captivating form. Elevate your style with the power of natural stone jewelry and make 2023 a year of unforgettable fashion statements.